INTEGRATED OUTCOME MEASUREMENT SOLUTION AND MONITORING TOOL
FOR THE CARDIOVASCULAR PATIENT JOURNEY
LifeQMed monitors all type of cardiovascular patients in all stages of their journey 24/7 – LifeQMed collects all relevant data and based on a Patient Status Engine, LifeQMed supports all medical decisions and the doctors and patients interaction
GET STARTED
LifeQMed and the patient journey
LifeQMed was launched with the ambitious goal to cover the whole patient journey – from the pre-acute phase to rehabilitation and follow-up care.
Using state of the art biodata monitors like reusable biodata patches attached to a patients chest, LifeQMed tools can monitor a patients condition 24/7 and report to involved healthcare stakeholders in real time.
Shown below are the different stages during the patient journey, which are all covered by various aspects of the LifeQMed project.
LIFEQMED PREVENTION
Biodata Monitoring can be applied way before the first symptoms of a cardiological illness arise and thereby has a strong preventive aspect
PRE-ACUTE PHASE
(in preparation)
QS1
Patients awaiting cardiosurgery can be monitored and rapid reaction can be achieved in preparation of the surgery if necessary
SURGERY
(existing solution)
QS2
QS2 enables comparison of surgery outcome in cardiological patients. With its 100% market share in Austria, QS2 has a comprehensive database on relevant surgical procedures
FOLLOW-UP
(in preparation)
QS3
QS3 will enable outcome measurement in the field of rehabilitation and thereby make treatments and treatment plans comparable yet individualized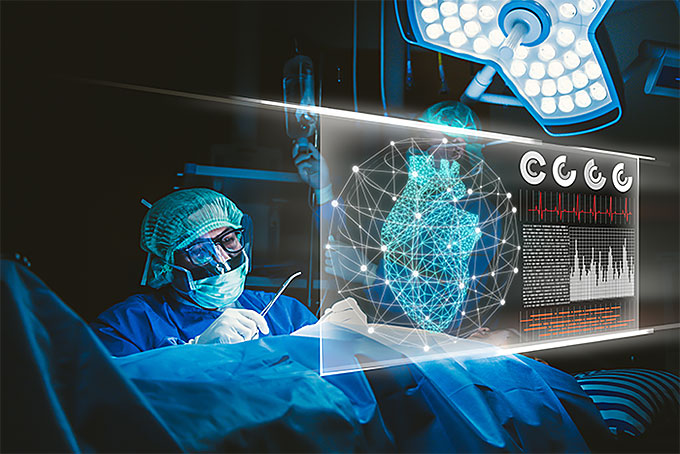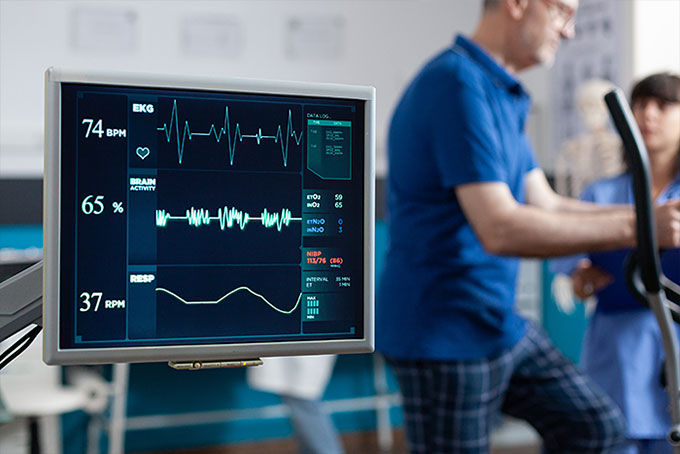 Cardiological patient continuum
Strategic Summary
Project lifeQmed is based on the existing solution-QS2 database-patient registries in the fields of cardiology. This solution is well-established on the market for more than 15 years and achieving positive operational cashflow. What makes this solution unique is more than 200 000 complete individual data sets with 100 percent market share in cardiology in Austria with the possibility to scale to international markets, cover the whole patient journey from prevention over surgery up to aftercare.
Due to this fundament and high demand on the market, we decided to expand the product into outcome measurement in the cardiological patient journey. The expansion is led by highly experienced and reputable experts and in cooperation with the MEDICAL UNIVERSITY VIENNA and based on VALUE-BASED-CARE principles by HARVARD BUSINESS SCHOOL. The project has a potential to significantly impact current cardiological delivery in Europe as it guides to implement a model that delivers high-quality care with optimal medical outcomes for patients, while increasing efficiency for the healthcare system.
In next stages farther international extension options into other clinical and Big Data solutions such as research databases on demand and data-driven scientific services with added value for patients but also R&D departments in the pharmaceutical and diagnostics industries.
KEY STAKEHOLDERS
Medical University of Vienna is among top 30 most reputable medical universities in the world.
S2 engineering is developing software products exclusively for the healthcare sector for more than 20 years. They are the market leader for statistics-based quality assurance software in cardiac and vascular surgery in Austria.
AQUILIA HEALTH is developing international projects in healthcare and managing digital health initiatives.
LifeQMed is based on the value based care concept developed by
Existing Solution and Product and Market Expansion Plan
Existing solution
AUSTRIA – QS2
CARDIO & VASCULAR & TRANSPLANT SURGERY
Well-established product
15+ years on the market – v.4.0
>200 000 complete unique data sets
100% market share in Austria in cardiosurgery (scalable to other countries)
Positive operational cashflow with profits
Certified by ÖBIG
In cooperation with MEDICAL UNIVERSITY OF VIENNA and Austrian Heart Society
Compatible with all HIS (Hospital Information System) in the world (HL7)
Multilingual solution
Market Expansion
Further International Expansion
STAGE I
Cardiological rehabilitation and prevention covering the whole patient journey
Cooperation with MEDICAL UNIVERSITY OF VIENNA
Strong international academic and clinical network and leading experts (e.g. President for International Society for Lung and Heart Transplant)
Integrating VALUE-BASED-CARE by HARVARD BUSINESS SCHOOL
Potential to be a game changer in the field of rehabilitation delivery care in Europe
Farther expansion options into clinical and big data solutions-including pharma and diagnostics.
STAGE II
Extension to other fields of medicine
STAGE III
Development of additional modules/solutions based on existing system and large datasets
Integrated clinical trial standards and processes for medical research
Data-driven scientific services database for research on demand
Integration in an unlimited medical data room for research tasks
Project Highlights
OUTCOME MEASUREMENT TOOL
for cardivascular patient journey
MONITORING TOOL
for the individual patient
PROGNOSTIC TOOL
for patient improvement
QUALITY TOOL
for hospitals, clinics and medical centers
VALUE BASED CARE
evaluation tool
PUBLIC HEALTH TOOL
for medical structure planning
Stakeholder map
Hospitals and rehab centres
Therapists and physicians
Insurance companies
Technology and support
Education and training
Government institutions
Science and public health
Patients
LifeQMed brings significant advantages
for de facto all relevant stakeholders in healthcare.