Medical Background
Holistic Care Concept
With our holistic concept, we place the individual patient in the centre of the care concept. Besides incorporating the whole healthcare continuum (i.e. from prevention to acute care, rehabilitation and follow- up of patients), our rehabilitation concept includes inpatient, outpatient, as well as tele-rehabilitation.
Our goal is to accompany the patient from the very beginning of disease diagnosis, to therapeutical interventions and rehabilitation and finally to the maintenance and monitoring of recovery.
Phases Of Healthcare Continuum
International Standards in Rehabilitation
Patient Categories according to ICF
Rehabilitation patients can be classified into 4 groups according to ICF Classification of WHO: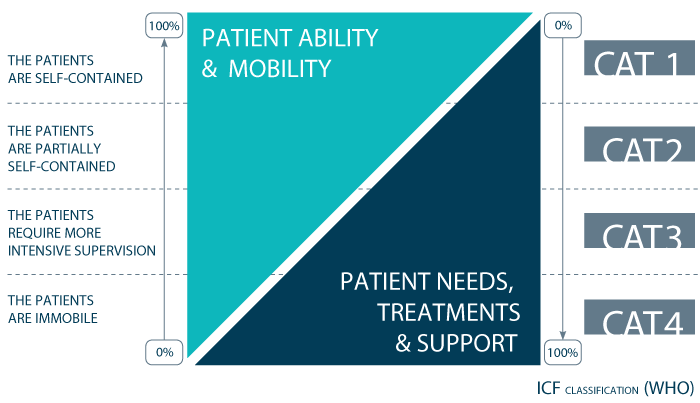 CATEGORY I:
Patients who are fully self-contained and mobile, whose goal is to successfully rehabilitate a subacute injury/medical condition.
CATEGORY II:
Patients who are partially self-contained and predominantly in the acute phase of injury, but do not require intensive supervision.
CATEGORY III:
Patients who are not completely immobile, but require intensive supervision.
CATEGORY IV:
Patients who are completely immobile and dependent on assistance and special care with specialized devices for successful rehabilitation.
ICF: International Classification of Functioning, Disability and Health. ICF is the WHO framework for measuring health and disability at both individual and population levels.
WHO: World Health Organisation
Patient Registries/Diseases Registries
Advantages of Register Medicine Concepts
proactive medical quality management and improvements based on evidence and hard data
data analysis and prognostic models enabling more targeted diagnostics and therapies
competitive advantage vis-a-vis many stakeholders
effective tool for negotiations with payors
reputation and brand credibility increase for the clinics
benchmarking on national and international level
Patient or disease registries are collections of secondary data related to patients with a specific diagnosis, condition, or procedure.
Registries vary in sophistication from simple spreadsheets that only can be accessed by a small group of physicians to very complex databases that are accessed online across multiple institutions.
Most disease registries are used to support care management for groups of patients with one or more chronic diseases, such as diabetes, coronary artery disease, or asthma.
Computerized registries provide users with an automated way to store data and to create, sort, and display lists of patients and other data for use in planning, quality improvement, reporting, and direct care delivery.
Outcome Measurement
What is being measured?
Diseases / Conditions
anatomy, disease
Treatments / Interventions
exercise, medication
Health Service Administrations
equipment, healthcare delivery
The goal of measuring, reporting, and comparing healthcare outcomes is to achieve the Quadruple Aim of healthcare.